Birthday Party Places in Udaipur
Jajmaan hotel & restaurant is among the best birthday party places in udaipur. It organizes birthday party events, and assists your friends and family to put the perfect celebration together. In addition to, their packages are made for easy decision making. And you can also add specific upgrades to your party to transform your big day into a memorable one. Jajmaan hotel and restaurant is the best birthday party places in udaipur, irrespective of the age groups. It unique concepts and basic amenities such as fast free internet and band entertainment on weekdays, captivate our guests. This is not just limited to birthday celebrations, but also perfect for happy hours restaurant in udaipur, holidays or any other special occasion.
Birthdays are significant milestones in one's life thus calls for a celebration. As a result, Jajmaan hotel and restaurant offers a variety of birthday party ideas to make it easier to explore different things and adapt to our packages for an accomplished feeling. The staffs assist you in planning your party with family and friends, as well as arrange for all of the games, music, meals, and other activities that your heart desires, with extra decorations, crafts, and gifts for children's curricular activities.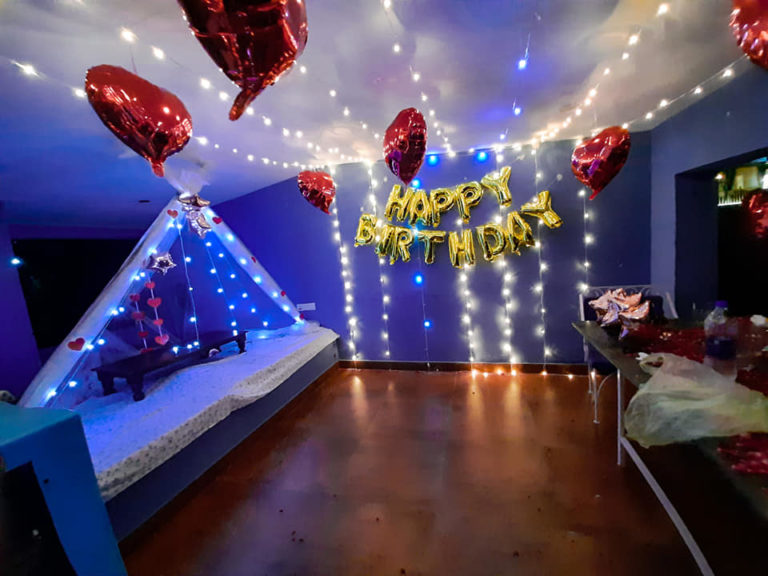 Features of Birthday Party Places in Udaipur
Jajmaan hotel and restaurant offers the best decoration innovate ideas for birthday celebration. If you're searching for a birthday theme eating experience, jajmaan hotel and restaurant is the place to go. With walls, seating arrangements, and décor that reflect birthday events, the atmosphere is incredibly symbolic of its title, thus making you feel special. The place's elegant feel isn't harmed by it; rather, it contributes to the joyful atmosphere.
To make the party more special, the hotel staffs arrange fun activities for the guests to enjoy.
Food, activities, a reserved party location, and other services are included. The best party packages like a band for entertainment, folk dance etc. to provide you with an amusing environment.
The Jajmaan hotel and restaurant, which is located near Rang Sagar Lake in udaipur, offers a unique and wonderful ambience to experience the artistic sight. Here your search for birthday party places in Udaipur ends as you will find here everything you wanted for perfect birthday party.