Jajmaan lake view Restaurant
Jajmaan lake view Restaurant :- This restaurant comes in Top 5 lake view restaurant in Udaipur Jajmaan lake view restaurant having 5-star ambiance is one of the best fine dining destinations. Embrace your taste buds at the beautifully decorated Best Restaurant in Udaipur which offers a wide variety of dishes. The Jajmaan lake view restaurant is a beautiful lakeside fine dining restaurant located near the Rang Sagar Lake in Udaipur. Jajmaan restaurant offers a wide variety of delicious flavors such as continental (Veg. & Non Veg.), Traditional Indian, Chinese and much more with an exotic range of mock-tails all under one roof with a soothing environment. Jajmaan restaurant is an All Day Dining Restaurants. Our versatile venues at Jajmaan lake view restaurant with Lakeview of Rang Sagar Lake make it perfect place for you to celebrate any occasion.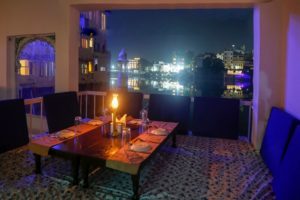 This restaurant is a romantic affair between taste and ambiance. They have a dreamy lakeside patio and delicate glass restaurant; you can choose either for a comfortable and intimate meal.
The restaurant can be your top pick for either a monsoon brunch or a special candlelight dinner.
We recommend tasting their starters in mushroom and chicken.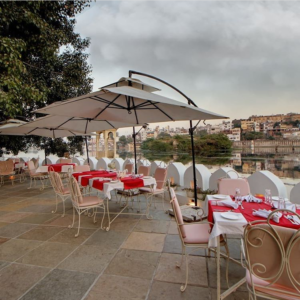 This is a luxurious boutique resort with one of the best lake view in the town. With mini tents, cottage seating arrangement, open tables scattered all over the lush gardens, Rasleela is worth your time.
It is advised to walk down the path towards the restaurant or take a ride in the local rickshaws as four-wheelers are not meant to glide the narrow lanes.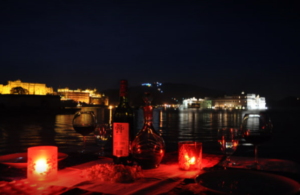 This open restaurant is one of our favorite places for exclusive luncheons. One cannot go wrong in taking company here for either a chilled beer by the lake or a tranquil date.
Does this not look like something out of fairyland? Well, it can be our very own personal Gateway to heaven!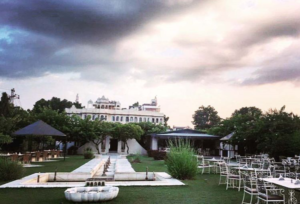 BOUGAINVILLEA TERRACE BY THE LAKE
Just look at that rooftop deck! From the ambiance to the location everything is just picture perfect. You definitely want to have a gang get together with some chilled drinks and soothing weather as the witness of one epic night.
If not a group outing, maybe a casual dress down Friday and drinks afterwards. The bar stop is again a good spot to explore the views of Fatehsagar Lake.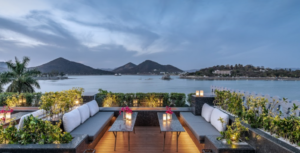 One can write sonnets about the view that this place exhibits. The legendary hotel chain has opted for the jaw-dropping location overlooking the Fatehsagar Lake in Udaipur.
You have a rooftop mini cafe and lower garden seating as well. The 5-star property is true to its name and well holds the glamour and demeanor of the Brand.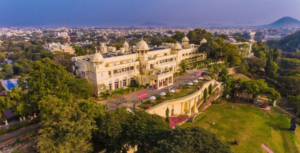 A bit of calm and tranquility can wash over you by just the ethereal atmosphere of this place. You surely breeze into a different era with the decor and the beautiful Lake Pichola. Scented candles, cool air, and endless view are perfect words to describe The Leela.
Have a Special night with the Special someone? This is the rendezvous you need to book. A joyride in the boat, magical experience, great food, and the ultimate luxurious escapade.