Jajmaan lake view Restaurant
Jajmaan lake view Restaurant :- This restaurant comes in Top 5 restaurants in Udaipur Jajmaan lake view restaurant having 5-star ambiance is one of the best fine dining destinations. Embrace your taste buds at the beautifully decorated Best Restaurant in Udaipur which offers a wide variety of dishes. The Jajmaan lake view restaurant is a beautiful lakeside fine dining restaurant located near the Rang Sagar Lake in Udaipur. Jajmaan restaurant offers a wide variety of delicious flavors such as continental (Veg. & Non Veg.), Traditional Indian, Chinese and much more with an exotic range of mock-tails all under one roof with a soothing environment. Jajmaan restaurant is an All Day Dining Restaurants. Our versatile venues at Jajmaan lake view restaurant with Lakeview of Rang Sagar Lake make it perfect place for you to celebrate any occasion.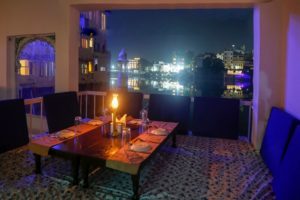 1559 A.D.
1559 A.D.: (Best for: Lunch)1559 AD Udaipur surprisingly is the only indoor place on my list. Ideal for lunches or desserts. It's located inside a 16th century decor bungalow and the ambience is beyond description. Again won't rate it very high on non-Indian food but their Indian non-veg dishes are a must try. The interiors are minimal but very tasteful.Bill for two- Rs.800-1000.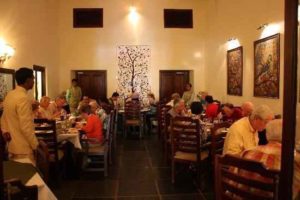 Upre
Upre: (Best for:Dinner)Upre literally means "up" or "upstairs" in Mewari. Located on the terrace of Hotel Lake Pichola,This restaurant comes in Top 5 restaurants in Udaipur. Upre udaipur gives you an amazing overhead view of the lake. You can see the beautiful calm lake, the brightly lit City Palace and listen to some live music (the mewari kind with dholak and shehnai). The individual tables are done up royally like tents and gives you a nice and romantic feel. The mewari food served here is to die for! Definitely try the Mewari egg curry or kadhi pakoda. If you are in the mood for some "Indian Chinese", this is your place!Bill for two: less than Rs. 1000/-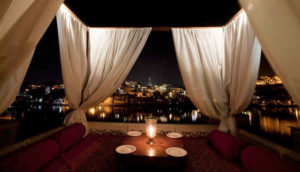 Palki Khana
Palki Khana: (Best for: Snacks & Drinks)Situated inside the City Palace, Palki Khana is the best place to unwind after your long walks inside the Palace and the museum. With the lake on one side and the beautiful facade of the City Palace on the other, This restaurant comes in Top 5 restaurants in Udaipur it offers an amazing view. In case you would just like to relax with a book and a bottle of wine…I cannot think of a better place to go to. What's more-the beautiful Anokhi store right next to the cafe! It has the most amazing jewelry & apparel collection!Bill for two: (drinks and snacks) Rs. 1000-1500/-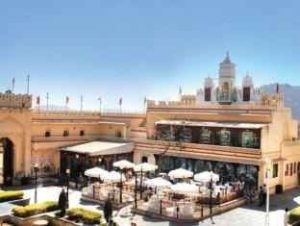 Savage Garden
Savage Garden: (Best for: Lunch)Savage Garden Udaipur is situated in a Godforsaken lane and you may want to ditch your car for an autorickshaw to get there scratch-free. This sent us off to Venice instantly-the same meandering narrow lanes to get to your favorite eateries. It's completely safe otherwise! Run by a German couple who fell in love with Udaipur- SG is the one place in Udaipur where you can get authentic "videshi food" for desi prices. It's a charming little cafe with idyllic interiors. Must trys include their home made gnocchi and pastas. Also give their desserts a go. Their liquor license is awaiting renewal but don't miss their awesome coffee!You may want to give them a call before you turn up unannounced as they are sometimes closed without notice.Bill for two: Rs.1000-1200/-